Yes, I am open for business! Outdoor photos are always at a safe social distance and I'm able to work indoors wearing a mask.
My Favourite Post from the World of Social Media
March 18, 2020

In need humour, amidst the Covid-19 outbreak, I give you this sheep:

This sheep escaped a farm and spent 6 years in the mountains, during which time he grew 60 pounds of wool. Wolves tried to eat him, but their teeth could not penetrate the floof. You don't have to turn hard to survive the wolves, just be really, really soft and fluffy. pic.twitter.com/a7RnYMCxxY

(@FiqhTabayyun) March 15, 2020
A Newish Website
January 2020
My left eye feels like it has soap in it. IS there soap in it? No, it's just that I've been glued to the screen for a week or so.
Building a website never seems to happen at a planned time. It's usually foisted upon me. This time it was because my web host shifted my files over to the "legacy" side of things. We all know what that word means. I'm not dead, am I? Not yet. It's just that the tech world has been doing things while we sleep again, making life smoother and faster. In order to have a website that's viewable on the new devices, I must update things. So, I have.
Oh well, it's a blessing in disguise. My business has evolved. It's now half photography and half writing. My website ought to display text alongside photos in a pleasing and legible way. My previous one didn't do that. The words were always shoved to the side like crumbs on a plate. Never mind what I have to say, look at the pictures.
And yes, I'm too lazy and cheap to have two separate websites.
New things:
This blog (!)
An FAQ on photography (feel free to pose some more questions for me)
New Photography pages (Events and Community)
Online purchase for Gift Certificates - I hope, still working out that one
A page showcasing the book launch
I'm still adding to it, migrating some old blog posts over from other sites before they get lost by Blogger and Medium changes.
Any suggestions? Notice any mistakes? Write me a note. I like to read.
Why Not You?
FROM May 7, 2017
Imagine, if you will, knowing that you will lose control of your body, starting with your feet, working up your legs, to your arms and hands, your bladder, your bowels, your ability to feed yourself, your voice ….
Imagine getting this news at the age of 15. You want your independence. You want to be kissed. Might you feel bitter, angry or frightened? Each ability goes slowly, leaving you time to mourn it. And each loss is permanent.
It could be you. Why not you? Or maybe it will be the person you fall in love with or your child or your best friend. But if it is you, you'll become entirely dependent on other people to do the things you took for granted. Even your shits are scheduled.
You are not yet forty years of age but you listen to the news about assisted dying and consider your options.
Did I mention that there is still pain?
Just Jen will put you there.
You see disabled people all the time. Do you look away? Does it frighten you?
Do you think that at 15 you'd keep the diagnosis mostly to yourself, even though others can see the changes beginning in you? Would you barrel ahead with university anyway, thousands of miles from your family, ask people out on dates, travel to Europe, volunteer and propose to the person you love?
How about this: do you think you could write a book by dictating it out loud to another person who cannot always make out your speech, so you have to repeat yourself? Word by word, sentence by sentence. And let's not forget all the editing to come.
But it's not you. This is Jen Powley, whose achievements would be remarkable even if she weren't a quadriplegic.
She has no use for pity. That's not what this is about. What she wants is for people to understand. Her book is raw and honest. It is trimmed of all fat. You will get a startling glimpse into her world. You will look at life in a different way and appreciate your abilities and not look away from that person in a motorized wheelchair.
Her book opens with this quote:
"Any coward can fight a battle when he's sure of winning; but give me a man with the pluck to fight when he's sure of losing." — George Eliot
Just Jen, Thriving through Multiple Sclerosis is available as a paperback and an ebook.
---
The Wonder
Beauty seduces us. This morning's sunrise is doing that to me. Orange, lavender and fuchsia pulsate through the clouds. The room is a warm yellow. Storm's acomin.
Joy is just beyond that edge, where the clouds lose their bloom and we see the true bleakness. After all, we have no choice, time marches on. There's no point in weeping over each lost sunrise.
In my case, I take things in pieces, isolate the bits that make me feel something. Every so often I pull back and realize what others must see.
Yesterday, we ventured out of the house to visit. My son dresses himself and - unless I think he'll freeze or boil — I try not to fuss. But you know how it goes, you see through the eyes of others sometimes (or think you do) and I saw him in his 6-year-old-finery: one pant leg inside a filthy boot, the other hanging free, a jacket covered in dust, a red scratch across one cheek, a smear of toothpaste across the other, hair standing up on one side…. Asymmetry.
Frankly, this is pretty close to his usual. Cartoon characters spring to mind; a cloud of dust and mud in his wake. It's far from beauty, unless you can look beyond it and try not to think about the ensuing mopping and laundry. That is childhood, the very best part.
He and his friends — girls and boys alike — don't look upon March and April with the same disgust as adults. The mucky puddles and blackened snow are building materials. Sticks and rocks are gathered and used to enliven their imaginary world. He has declared that this is his favourite time of year. He still remembers the winter of two seasons ago — a winter that adults mention with a shiver — when the snow reached record levels and then it rained and froze. Our driveway had to be chipped, rather than shoveled. He was by my side, happily piloting a sizeable chunk of ice (an iceberg!) through a deep, slushy puddle (a harbour!).
My dusty house is spectacular in certain lights. We lay together on his bed the other day, looking into a shaft of light. I told him to imagine that each mote of dust was a star, that we ethereal beings were able to peer into the universe. Then I told him to blow, and we watched the stars scatter in chaos. I think I'll hang onto that memory until my last breath; the two of us in a sunny bedroom, snugged into our imaginations, before he grows to an age when he will, must push me away. I love the wonder. The trick is to find it and let it dazzle you.
Favoured Positions
FROM March 23, 2017
I won't do it in bed anymore
as tempting as it sounds
nor the couch
or any soft piece of furniture
For me, it's best on a wooden chair
Maybe in the dining room
Better yet,
standing up in the kitchen
with the granite countertop chilling my wrists
and the tiles hard against the soles of my feet
Bent to my task
Mind in another world
Fingers birthing words
to a blank screen
From Nov 18, 2016
I just finished 13 Ways of Looking at a Fat Girl by Mona Awad. It was an honest and raw look at what it is to be female; to strive to achieve a shifting physical ideal. It made me angry and bored.
Earlier this year, I was doing a lot of journaling in order to figure out how to fix myself, a constant quest. The journal contained about a year's worth of writing and I read every word. Too many entries began with my shame about eating the wrong things and not exercising enough. I had to stifle a yawn. Each time these words were written, it was as if I thought it a fresh confession.
That sort of fretting has taken up too much of my life. It seems like we girls and women walk straight into a trap that does not benefit us in any way. We worry over what we eat, feel unwarranted shame over our natural bodies, hide what we think of as flaws, apply makeup, contemplate surgical procedures, buy clothes to mask it all, wear shoes that hurt and spend wads of cash on it all, and to please whom? Men? You want to know the kind of man that values that so much, have a look at Donald Trump. Remember the sort of things he says when he thinks the woman is out of earshot. The good ones will tell you that they like you as you are. They don't want to sit next to an unhappy woman that can't enjoy dinner because her Spanx are too tight. Or is it for other women that we do this? What's behind that? Something ugly, I suspect.
In recent months, I haven't stepped on the scale. I eat food I enjoy and if I overdo it, I don't on the next day. I've realized that I enjoy my exercise. It feels good when the blood warms my muscles and I can stretch a little further. I like that it brings a glow to my skin. It helps me think more clearly and fuels my creativity. I sleep better on the days I've worked out.
I'm not competing.
A couple of years ago I stopped colouring my hair too. For the most part, it was because I couldn't afford the salon every six weeks but it was also to do with all I've said above. Why do we want to look younger? What's wrong with my real age? I'm forty-six, by the way. I don't want to be in my twenties. That wasn't a happy time for me. I like who I am now more than the me of twenty-six. No one can tell me to be ashamed if I am greyer and softer. We all age.
So I'll eat and I'll exercise and I'll sleep well at night. To hell with that empty existence of staring at a weight scale to see if I'm permitted to be happy today. We, women, have better things to do. No?
Oh and pick up a copy of 13 Ways of Looking at a Fat Girl. Let me know what you think.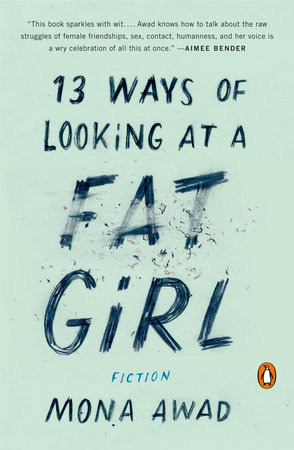 FROM Nov 7, 2016
We went without a dog for quite a while after our last one died of cancer. I remember her last night with us, gasping on her bed in front of the fireplace. We sat beside her, not knowing if we were doing the right thing. Having that decision thrust upon you as a pet-owner is the single, most difficult thing in your years together. In the morning, my husband took her to the vet and stayed by her side during that final release from pain.
We didn't rush out and get a puppy, even though it was hard to come home to the quiet house; no thump of a tail on the wall to greet us.
It was the first time in sixteen years that I'd shed that sort of responsibility (no pun intended). I'd grown used to having wads of fur stuck to all of my clothes and the furniture. Scrubbing vomit and urine out of the living room rug was a regular occurrence. And then there was the daily toting of bagged-poop or the smear of it on the bottom of a shoe. The enormous bags of dog food, the healthy treats and the increasingly regular vet visits took a toll on our bank account too.
We talked of getting a smaller dog next time, but way off in the future when our son was older. We'd research breeds. Perhaps a non-shedding, medium-sized, sensible sort of breed. A healthy, robust kind of dog that likes to go on long walks and does well on sailboats; a dog I could pick up, if needed. Maybe we'd adopt from a shelter and give a dog a happy ending.
I wasn't actively seeking a dog. But I had progressed to the stage at which I'd pull the car over to the side of the road if I saw a long-and-low and question the owner all about their dog's likes and dislikes, while stroking one velvety ear. On one occasion, the owner asked me if my husband rode a bicycle and described him rather accurately. Apparently, he was doing the same thing; accosting hound-owners and delaying their walks. So, when I saw the little ad posted for a six month old in need of a home (including a photo of her stretched out alongside a baby), something lurched in me, some vital organ.
It went against logic. The previous, pet-less year had been simple in so many ways. We could go out all day, without worrying about our dog's digestive tract. The house smelled of coffee and baked goods. The furniture stayed dry. Money didn't exactly pile up in the bank account, but there was slightly more of it. I was kind of getting used to the silence. And unlike most little kids, my son was not begging us for a pet, of any kind. When we asked him what he thought about us getting a dog, he lifted his shoulders and said he thought that we (his parents) would like a dog. I think he gleaned this from the number of dog videos we'd begun to view on Youtube.
Twenty four hours into our puppy's arrival, I tried not to look back wistfully on those quiet months. I didn't really have time for that, our family was too busy patching the backyard fence, removing damp, mangled things from her mouth and purchasing baby gates on Kijiji. Maybe it was because we had our previous puppies at a less established time in our lives or because we were younger, more energetic, or maybe it was because this particular puppy had a boatload more energy than the others.
Two weeks in, I was smitten, rubbing her speckled, pink belly and murmuring lovingly of her less desirable traits. Three weeks in, I began to psychoanalyze the Me of recent history and I determined that her chaos was precisely what I needed, what we needed. It's not good to have a spotless home and clean hands. It's not good for kids and it's not good for adults, I assured myself. That's not the way of the world. Get dirty. Stop rushing around and roll on the rug with your filthy hound. Embrace organic!
What I had missed the most was the snoring. After a full day of escavating the back yard, trampling flowers, eviscerating the most recent toy or my sheepskin slippers, she monopolizes the couch (now a slightly different shade than pre-pup) to snore and have twitchy dreams. It does something to my heart rate. I'm happy to sit nearby and put a hand on her side.
To my utter surprise, my son fell for her too. An only child (a lonely child) he views her as his younger, trouble-making sibling who needs his guidance. It makes him think less about himself and more about her needs. He told me this while I was trying to merge into traffic one day (always a favourtie moment for his heart-to-hearts with me). It's a good thing for kids to come to that conclusion on their own, that they are not the centre of the universe.
She'll mellow out soon enough, that's what we fell for in Basset Hounds. By nature, they are jolly, nonchalant and clumsy. Clownish, is a word I often hear about them. Instead of a bark, they have a deep bay. Hers starts out low and ends on a higher, off-key note that makes people laugh in surprise.
We get the dog we need, I suppose.
We provide our pets with the life we'd like for ourselves. While we run off to stressful appointments, endure awkward meetings or contemplate the numbers that make up our lives — taxes, deadlines, life expectancy — our dog(s) go on leisurely walks, take in big gulps of fresh air and sleep in sunbeams. In short, they get living right. So if it's not possible (or societally acceptable) for humans to live this way, we can have the pleasure of watching its effect on the hairy heaps at home.
As I type these last few words, on a cool Fall morning, my dog is stretched out on a fleecy cushion, in front of a crackling fire. Moments ago, she flipped onto her back and exposed her belly, inviting a rub. I stopped my ruminating about all the Things To Do and obliged. Praise be to dogs.
So I give you the list that I have compiled, based entirely on my own personal experience/trials:
Good Things About Dogs

prompts your kid(s) to think about the needs of others
exercise your vacuum
get you out of the house, whether you want to or not
dispatch toys that aren't rugged enough
assist in finding holes in fencing or doors/windows that open easily
save water by pre-washing plates after meals (with any luck, you'll have had the chance to eat the food first)
kids raised alongside hairy siblings are less likely to develop allergies
scape-goats for flatulence
de-stress anxious people while distressing your wooden furniture
FROM Nov 8, 2016
My son is still at an age at which closing the bathroom door is optional, at least around family. So it was, that I ended up being drawn into a political discussion with him while he was … well never mind that. It started with him asking if Donald Trump was going to start World War III.
"Nah," I said, "he's one of those people who likes to exaggerate. You know, he makes everything sound worse (or better) than it really is."
"Well, one of the kids said that Trump is going to start WWIII so he can be President."
I didn't realize until that moment that grade one kids, in Canada no less, were also discussing the American election.
"Then," he continued, "all the kids started laughing and the teacher asked us why and we said it's because Trump is funny. Then one kid held up a finger and said — ."
"Which finger?" I had to turn and look at him, as I was busy digging out toothpaste from the medicine cabinet.
"This one." Up, went the index finger. Down with the eyebrows. "And he said, Trump is NOT funny."
"Mmm." Careful not to lead the discussion now.
"I hope he doesn't get elected." He's almost done now, checking to see that he's done a satisfactory cleaning job. "Cause he's a bully."
"Well," I said, in my most reasonable tone, "it's okay, we're in Canada and the election is in the US."
"I know but Canada cares about their neighbours."
Very succinct, I thought, watching him reach for the hand soap and he chose a heck of a location to make his thought known.
The Waiting Room :: After the Query is Gone
FROM Nov 4, 2016
My first novel has been printed and passed on to the publisher. It took me almost as long to write the query letter as it did to bang out the first half of the story. Now the waiting begins. Three months to inifinity.
People ask me how that makes me feel. Numb. It doesn't seem quite real. The characters still carry on conversations in my head from time to time. I see people that resemble them or catch them looking back at me in the mirror. I worry, in the middle of the night, that I gave the publisher the wrong draft, some earlier thing with pencil scratches in the side margins along with a grocery list. I imagine them laughing derisively, tossing my three-hundred-and-fifty-some-pages onto the floor; the slush pile.
But I don't gnash my teeth about it or scratch obsessively. Well, not both at the same time anyway. I'm not checking my email more than, oh, five times an hour. I'm pretty calm and collected really. For me.
The truth is, that I am now on some medication for anxiety and my feelings are just out of reach. I observe them rather than feel them. I confessed to a writer friend last night that I've begun to worry that the meds are affecting my (already patchy) memory, so I've become anxious about my anxiety medication. He smiled, "That's so you." I laughed too but not for as long. I'd already lost my train of thought. I'd been rambling on a different subject, hadn't I?
So the waiting isn't really an issue. I humbly await a polite rejection with some helpful feedback; anything from, it's not right for our catalogue but keep at it to go and live somewhere isolated and never contact us again. What might be more terrifying is the thought of being published. More people will read it and have the opportunity to toss it onto a slush pile, which might be made up of real, dirty grey snow and half-thawed dog turds. I'd have to read to people in public and try to say witty, insightful things. Worst of all, they might make me summarize the book. How is it possible that the author is the least qualified person to give potential readers the gist of the story? That's the sort of question I would have asked before writing a book myself.
So, you see. I win either way.